Do you know what to pay attention to when applying mink eyelashes?
Evanan eyelash vendors tell you that if you decide to choose mink eyelashes, you should know a few things. Here are some things to consider when using 3d mink eyelashes.
Evanan eyelash vendors custom eyelash packaging
Types of mink eyelashes:
There are two kinds of mink eyelashes on the market now, one is temporary and the other is semi-permanent. Temporary mink eyelashes are attached with the help of temporary mascara and should not be worn while bathing, sleeping or swimming. On the other hand, semi-permanent mink eyelashes are used with the help of cyanoacrylate adhesives. Eyelash extenders are usually made of methyl 2-cyanoacrylate, which helps to stick smooth surfaces (eyelash extenders) to porous surfaces (natural eyelashes). Can only be used around the eyes and natural eyelashes.
mink eyelash vendors wholesale 25mm mink lashes
Mink eyelash length:
Mink eyelashes come in different sizes, from the popular Kardashian length to a more natural length (6 to 17 mm). The choice of length depends largely on the length of your natural eyelashes. It is recommended not to choose a length that is 2-3mm longer than natural eyelashes. In addition, too long eyelashes may cause eyelashes to break.
Curvature: different types of curls are available-
J-shaped curls are the least curled, making the wearer's eyes look more realistic. Straight, naturally drooping eyelashes are suitable for women.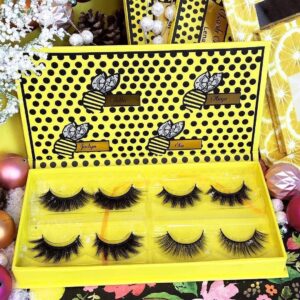 custom eyelash packaging boxes wholesale lash book
B curl is slightly more curled than j curl, which brings more visibility to the eyes.
Type C curls are the most common type of curls. C-shaped curling eyelashes are the perfect choice for women. They curl slightly on the natural eyelashes, creating a beautiful big eye effect. If you want a dramatic appearance, d-curls is a good choice.