Why can our customers receive orders within 2-4 days?
Evanna Lashes is a professional lash vendors and custom eyelash packaging. We have a professional R&D team and continue to provide new eyelash styles. We have developed more than 100 eyelashes. Loved by customers. We also have a professional team of designers who can design your logo for free.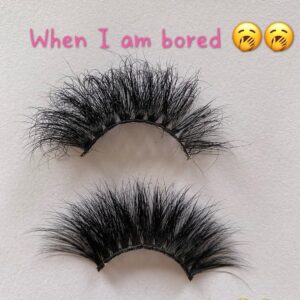 Recently, many new customers hesitated before placing an order. After we asked the reason, we learned that the original order for the eyelashes was due to the 10 days of the original supplier's outbreak. The shipping time required it to make them very collapsed, so it was wasted Too much time on the risky road! Therefore, although they like Evanna Lashes very much, they are still afraid to place orders.
Therefore, after we understand the reasons, we will actively coordinate with customers and tell them not to worry. Usually, in terms of shipping orders, other Mink Eyelash Vendor mink lashes manufacturers have more than 10 days, but we only need 2-4 working days. We use DHL for premium VIP shipping. Shorten the order processing cycle, which will reduce lash maufacturer costs and customer satisfaction, thereby increasing customer return rate.
Catalog click here>>>16mm mink lashes
Catalog Click Here >>>20mm mink lashes
Catalog Click Here >>>25mm mink lashes
Catalog Click Here >>>Custom eyelash packaging
Catalog Click Here >>>Eyelash tweezer
---
Hot Blog HelpFul Your Eyelash Buinsess
---
>>>Click To See How to start an eyelash business use litter money?<<<
>>>Click To See How To Start Lashes Bussines Can Make Money?<<<
>>>Click To See How Can I Get Eyelash Video From Evanna Lashes?<<<
>>>Click To See How To Find Mink Eyelash Supplier Quickly And Accurately?<<<
>>>Click To See Wholesale 25MM Mink Lashes From Best Eyelash Vendors<<<
>>>Click To See How To Find Mink Eyelash Supplier Quickly And Accurately?<<<
>>>Click To See About Custom Eyelash Packaging Box.<<<
>>>Click To See How To To Start Your Own Brand Of Eyelash Business Use 100-122 Dollars?<<<